Welcome Pat Barthelow to our Communications Team
This month we welcome Pat Barthelow to our communications team as the Development Engineer for our Ground Support Network.  Pat is from Auburn California, and has been a Ham Radio Operator since 1967, with call signs WB6ZSB, AA6EG, and N6IJ.  Pat brings to Synergy Moon his knowledge of and connections with existing networks of Large Dishes and their management world wide, and his expertise in Weak Signal Space Communications, from Moonbounce.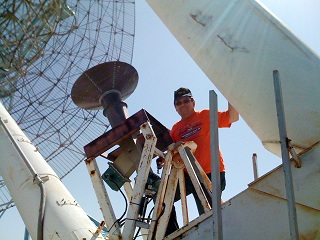 Pat is one of the founders of Echoes of Apollo Moon Bounce events, bouncing audio and video radio signals off the moon using Large Dishes..  Moon Bounce has received world wide publicity, and Pat developed a moonbounce system design, and is working as Moon Relay Co. to integrate large dish Moonbounce operations into STEM programs at the University Level, and Moonbounce events which provided real space communications exposure to kids as part of middle and high school science outreach programs. He has set up, commissioned, paired with, and operated, Moonbounce dishes, worldwide, including Jamesburg 30 metre, Arecibo 305 metre , Stanford/SRI, 46 metre , and the Dwingeloo Holland, 25 metre. He is Currently planning Large Dish Moonbounce commissioning in Mexico, Huntsville Alabama, and Maryland. He has published Moonbounce Related technical articles for Amateur Radio Journals world wide CQ, CQ-VHF, Aviation Week, USA, Czech Republic, and Holland.