Staking a Claim
Our lunar landing site will become one of the first commercial exploration and development sites on the moon.  Current outer space legal theory supports a person, group or company creating a facility and making a temporary claim to a limited area on the moon or anywhere else in the solar system for research, development, mining, etc., with the legal right to remain free of any interference, for as long as the facility is active. Earthbound international precedents extend this claim to 500 meters around the development site.  We plan to stake a claim for those rights.  We are developing the MoonStakeTM Micro Research Facility to extend that claim and further test this legal theory.  These devices can become part of the lunar seismic monitoring network.  The MoonStake is a solar powered ground stake, with electronic sensors and communications built in.  Each MoonStake should give its owners legal control over local lunar resources, just as claim stakes were used by prospectors to claim mining rights and control of property here on earth.  Contact us if you would like a MoonStake MRFTM to stake your claim!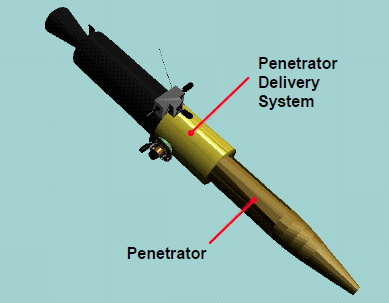 One possible MoonStake delivery system, from lunar penetrator designed for MoonLITE mission http://www.boomslanger.com/images/moonlite.pdf
MoonStakeTM and MoonStake MRFTM are trademarks of Synergy Moon LLC.